Including Your Dogs in Your Wedding
These days dogs are more a part of our families than ever – so it only makes sense that you and your future forever-love want to include your canine (or canines!) in your wedding day. We have three dogs of our own, all with varying temperaments but it was very important to us to make sure they could be included in some way without stressing them (or us!) out.
In addition to the unbeatable photo ops, it's actually the memories (for both you and your guests) that will last forever. If you plan ahead, you can make sure that having your four-legged family there adds to the joy of the day, and not the stress! These tips and things to think about will ensure that you get all the joy out of having them included in your day without all of the stress.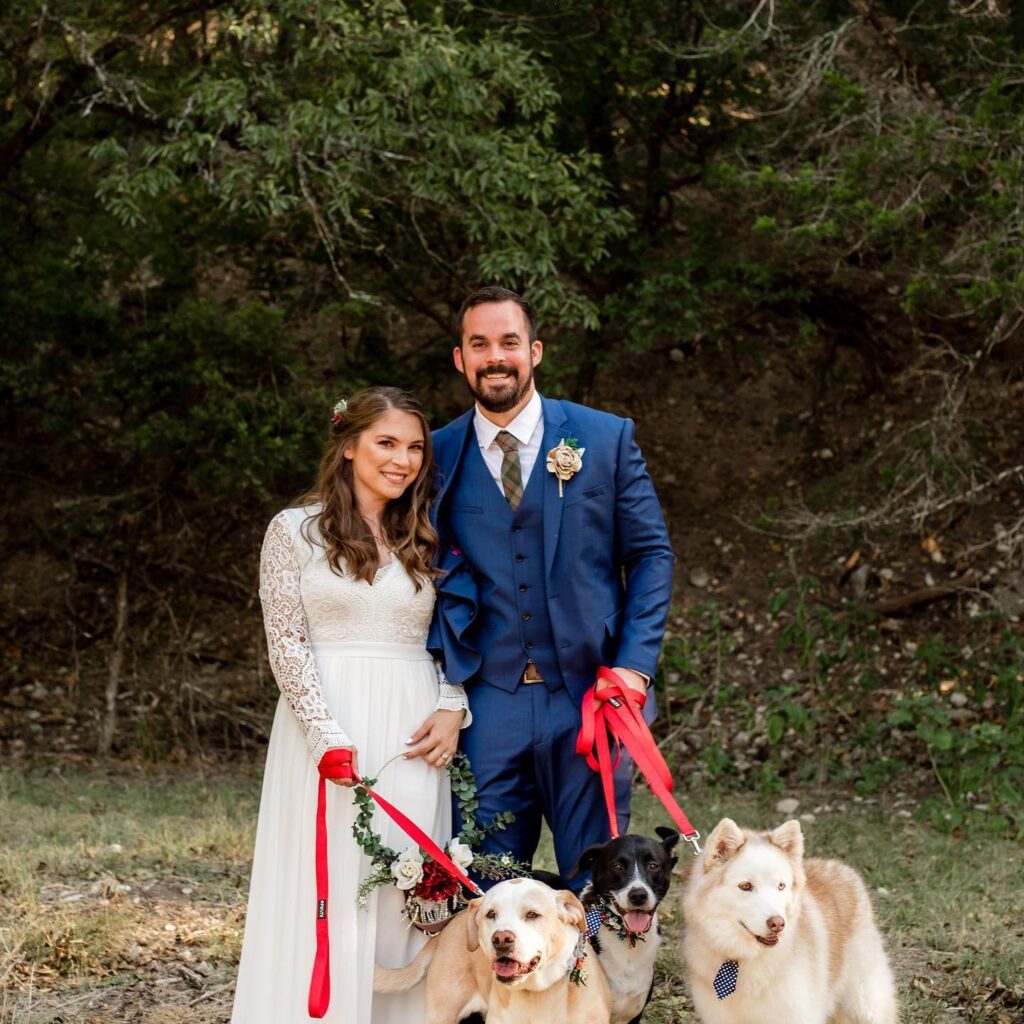 1. Check with your wedding venue to see if they allow dogs to participate and what the rules are. 
Some will allow it only for the ceremony if it's outdoors, and then require they be taken off premises immediately after. Or, if it's an outdoor venue, like Elm Pass Woods – your puppers are welcomed to the stay during both the ceremony and reception, or they can be crated in the Getting Ready Cottage at any time.
2. Designate a familiar handler.
Most venues will require a designated handler and that they must be leashed at all times. It's best to choose someone that your furry friend has met before and is comfortable with. This will help them be as calm as possible during the ceremony, especially if they are walking down the aisle. I'm not going to tell you to Benadryl your pupper…but we did and it worked! LOL Always check with your vet first.
3. Don't just use the same old collar and leash. 
They will 100% be in the pictures and videography, so don't miss the opportunity to coordinate. Nowadays you can find a leash and collar to match every color scheme!!
4. Dogs can have accessories too. 
Peruse Etsy for dog collar wedding accessories. I actually found a shop owner that made matching floral accessories for our three doggos and myself (for my hair). It was absolutely one of my favorite details about our wedding festival. I will cherish the pictures forever! Alternatively, you can find bowties or DIY adorable signs for their necks.
5. Bring a collapsible bowl and water bottle. 
This is especially important if the ceremony is outside in the summer! Here in Texas being an outdoor venue we insist on it. At least a few treats is a safe bet too! At Elm Pass Woods we have a water station by the human car for your furry friends during the reception, so it's one less thing to think about. 

6. Always, always, always bring doggie disposal bags. 
This is the least glamorous part of being the designated handler, although I think it's a small price to pay for accompanying the most popular guest at the party! Out of respect for the venue and the other guests walking around on your big day – this must always happen immediately after, the ahem…evacuation.
7. Last but not least – pack a doggy bag (I know, low hanging fruit), to carry what they will need for the day. 
Pack a small bag/tote in advance full of what they will need, so you don't stress on the day or forget something. And make sure the handler takes possession of the bag ahead of the ceremony.